What we do
Increased Resilience of Syrian Armenians and Host Population (IRIS) Programme reaches its overall and specific objective working through four strategic components which are followings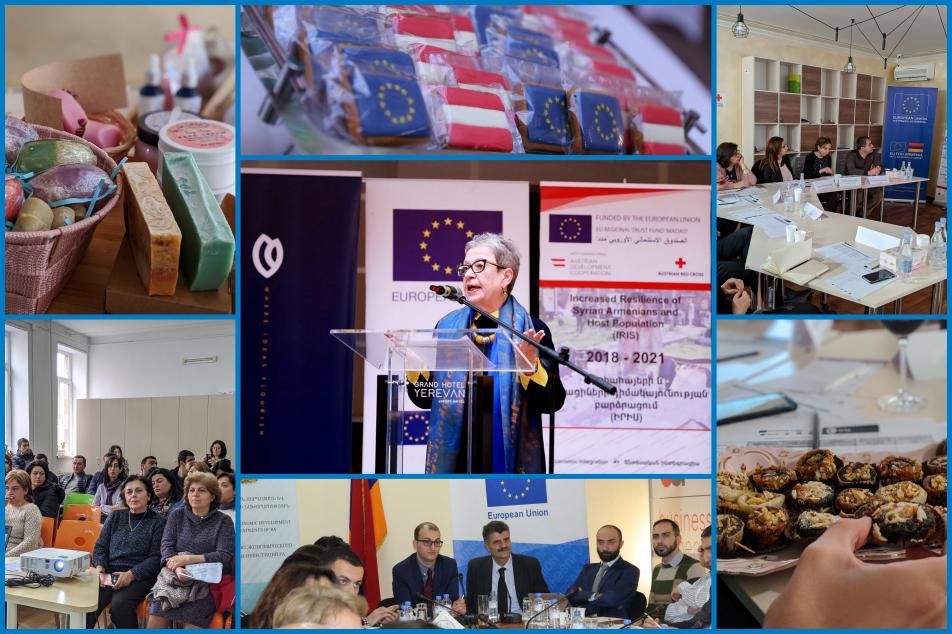 Economic Integration
One of the corner stones of Syrian Armenians' full integration into society is their Economic Integration. To reach to Economic integration IRIS programme works on two dimensions: 1. support to job seekers and 2. support to entrepreneurs and start-ups. Within the support to job seekers and under the lead of Armenian Red Cross Society three-months paid-traineeships are offered to Syrian Armenians, other refugees as well as vulnerable local population. Job seekers can apply to Armenian Red Cross Society by submitting their CV's and preferred employment, after which interviews are held and potential employers are identified. Armenian Red Cross Society provides the funds for the salary, and the job seekers have the opportunity to gain additional skills, and ideally after the completion of the three-months traineeship most successful ones will be granted permanent employment contracts. In addition to this a database of Job Seekers as well as available jobs was created fostering possible matching connections.
With regards to the support of entrepreneurs and start-ups under the lead of IRIS programme partners Armenian Caritas Benevolent NGO and SME Cooperation Association NGO the IRIS Business Incubator has been established , with the aim to become a tool for sustainable development of future generations of start-ups and to stimulate the culture of entrepreneurship by bringing positive change to the business culture of Armenia through innovative approaches. The mission of the IRIS Business Incubator is to enhance the economic integration of Syrian-Armenians and host population through raising the competitiveness of the local economy by stimulating innovation and entrepreneurial spirit in Armenia. The IRIS Business Incubator provides a unique full cycle of business support services to Syrian Armenians and local entrepreneurs, including training, coaching, mentoring and access to finance with grant and loan funds, as well as a co-working area located in the downtown of Yerevan. Throughout the duration of the IRIS programme more than 300 entrepreneurs will attend the trainings, have the opportunity to work with coaches and mentors, and approximately 140 of them will get access to finance in terms of loans and grants.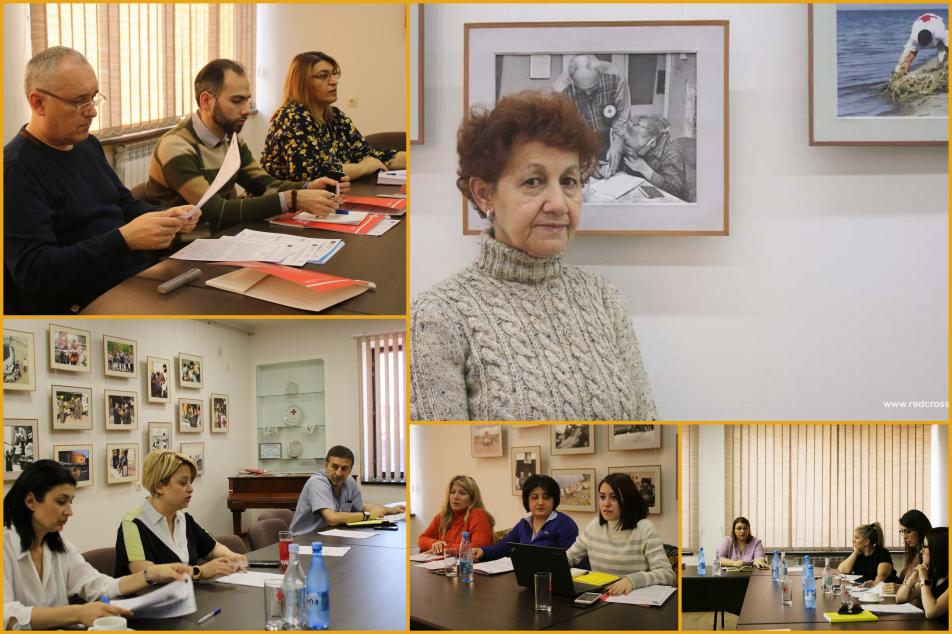 Housing Support
One of the crucial problems of Syrian Armenians in Armenia is the housing issue and renting costs. Even though Armenia is the eastern gate to Europe, Yerevan continues being one of the expensive cities with regards to the real estate costs among Eastern European countries. To decrease the financial burden of vulnerable Syrian Armenian families the IRIS programme under the coordination of Armenian Red Cross Society supports 100 Syrian Armenian families with monthly rental subsidies of 100 EUR. Every 3 months a Housing Selection Committee meeting is held, comprising state, local and international organisations actively working in the field – such as UNHCR, Mission Armenia, Centre for Coordination of Syrian Armenians' Issues, Armenian Caritas, Armenian Red Cross Society and others – which reviews the applications and selects 100 most vulnerable families based on special criteria developed by UNHCR for up-coming three months.
With the support of IRIS programme the Armenian Red Cross Society also coordinates the activities of the Housing Consortium. Since 2016 the Consortium members aim to expand partnership in operating rental subsidy scheme, while at the same time promote innovative solutions to longer-term housing needs including social housing programmes. For that purpose, a consultancy was announced with the aim to develop a concept paper for most feasible and sustainable solutions for low and middle-income Syrian Armenians, who are in need as they reach their financial limits by paying rent and frequently use up their savings to do so.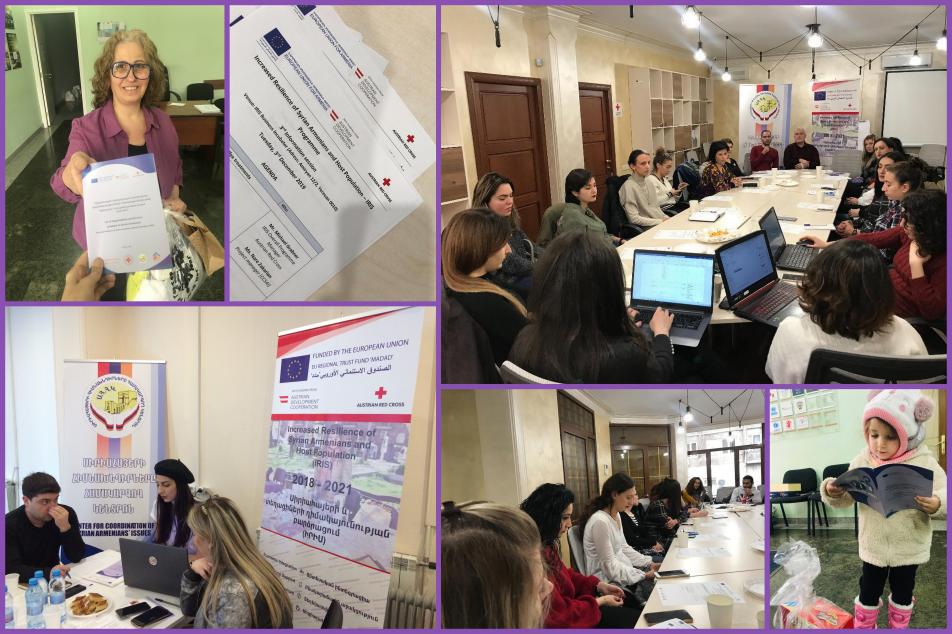 Information Services
Under the lead of the IRIS programme partner Centre for Coordination of Syrian Armenians' Issues the Information hub for Syrian Armenians was created with the support of IRIS programme. The aim of the Info Hub is the regular exchange of information among organisations providing services to Syrian Armenians, as well as to supply the case managers and psychologists working with Syrian Armenians and refugees in general with that relevant information. Finally, the ultimate goal of the Info Hub is the centralised collection of all relevant information on existing services and sharing it among the Syrian Armenian target population.
For this purpose, the Centre for Coordination of Syrian Armenians' Issues holds regular coordination meetings with organisations providing services to Syrian Armenians, as well as information sessions for case managers and psychologists to enable them to provide up-to-date referral services. One of the important activities of the Info hub is the development of a brochure with comprehensive information on the services provided to the Syrian Armenians which is published on the website of Armenian Red Cross Society and updated on monthly basis. Hard copies are printed several times per year and disseminated among Syrian Armenians and relevant service providers.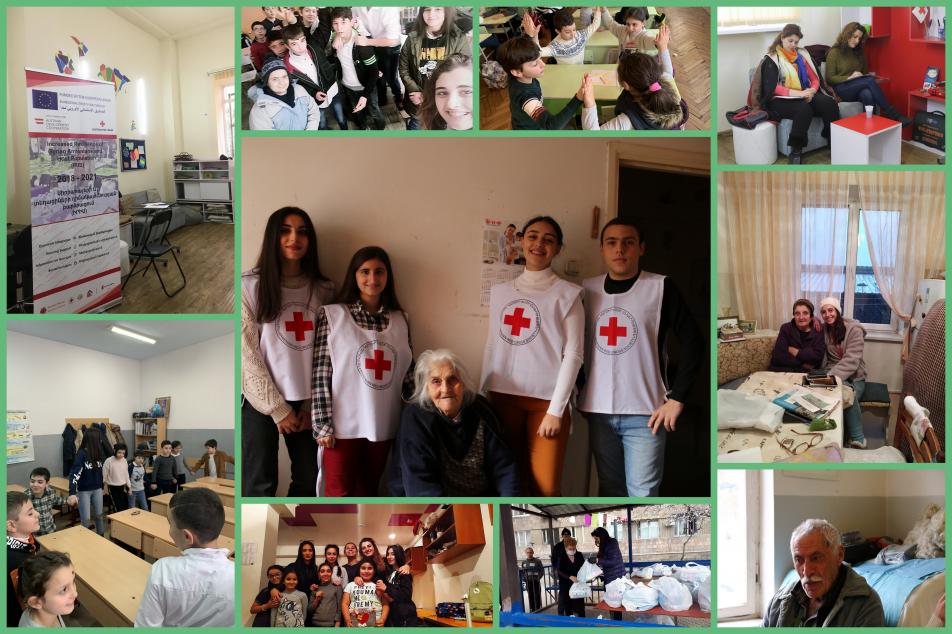 Social Inclusion
Under the lead of IRIS programme partner Armenian Red Cross Society a range of social, psycho-social support and educational activities are being implemented for the various target groups with the aim of full social integration of Syrian Armenians and other vulnerable groups.
The Psycho-Social Support (PSS) Centre of Armenian Red Cross Society was relaunched and is now operational right in the heart of Yerevan city where various group based integration meetings are being organised by the psychologists of the Armenian Red Cross Society. Moreover, group and individual consultations are being provided to Syrian Armenians and other refugees looking for psycho-social support or other answers to burning questions arising from daily life
In the frame of housing component, social workers from both Armenian Red Cross Society and Armenian Caritas provide case management support to vulnerable Syrian Armenian families, thus strengthening their coping mechanisms, their mental health and psychological well-being. In practice this means that the case managers assess and document cases of vulnerable families and develop specific assistance plans, including referrals to appropriate services. The PSS Centre is coordinating the case managers through quarterly coordination meetings.
Visiting Services are being provided to the lonely older people – Syrian Armenians, IDP's and local Armenians – living in dormitories of Yerevan city as well as Kotayq region. Food and hygiene parcels are distributed to 200 most vulnerable older people, 20 volunteers of Armenian Red Cross Society visit the beneficiaries on regular basis and help them with household activities, shopping and access to medicine and medical services that are free of charge. Besides that social events and activities are being organized in- and outside the dormitories, e.g. visits to the theatre, museum or nearby places of interest, thus alleviating the older people's loneliness and promoting their socialization
Within the educational activities of the IRIS programme the Armenian Red Cross Society – in close cooperation with the Ministry of Education, Science, Culture and Sport as well as with the educational materials provided by IRIS programme associate partner Save the Children Armenia – organises Tolerance Education and Child Resilience classes for pupils as well as Psychological First Aid classes for teachers, psychologists of schools and representatives of state and non-state actors.
In addition to all these activities Youth Resilience Camps with capacity building sessions on leadership skills are being organised by Armenian Red Cross Society for Syrian Armenian and local youth, where they are inspired to act as leaders in the areas of social inclusion, tolerance and non-violent communication. After these camps seed grants are being provided to the participants for community youth led events, with the aim of fostering social inclusion as well as empowering youth to become active community members.